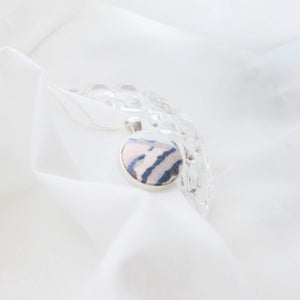 "Memories in Threads Collections are so dear to our hearts"
CUSTOM LEAD TIMES FOR THIS PRODUCT APPLY of 1 to 2 WEEKS NOT INCLUDING POSTAGE TIMES
PRE CHRISTMAS ARRIVAL ORDER CUTOFF CLOSES 10TH OF OCTOBER. EXPRESS MUST BE SELECTED. INCLUSIONS TO BE RECEIVED NO LATER THAN THE 17TH OF OCTOBER 2021.
We get to work with amazing and touching families along our journey here at RubyBabyDesigns and we are asked quite a lot about a lovely simple and classic design for our Memories in Threads collection - so here it is - a statement but simple piece called "Desiree" Memory Clothing Dome Pendant.
By taking your precious clothing pieces - whether that be from passed loved ones, wedding attire and baby clothing and the like - we can create a lovely personal keepsake for you to cherish.
This style of pendant has a simple round bezel with an attached sturdy bail paired with a covered dome pendant set within. It also features the ability for two sides.
This pendant doesn't include a chain please keep an eye out for our stainless steel necklace chains here.
MATERIALS - Base metal 
with a lovely self covered dome of your loved ones clothing. There is no coating over the clothing. Making this a delicate piece.
SIZE - 
Approx 25mm diametre of the pendant. 
Your pendant will arrive in gift boxed / gift wrapped.
Each and every Memories in Threads item

 is created as a CUSTOM ORDER and this means that it is created just for you - as an individual and unique piece. Custom lead times are 1 to 2 weeks not including postage times.
Minimum amount of clothing to create is 8cm x 8cm per side. We can use any clothing except for chunky items and chunky knitwear and hand knitted garments.
   Please do note this is a keepsake and isn't an everyday wear piece. The fabric may get dirty and possibly pulls etc as it doesn't have a protective coating and cannot get wet. This is meant to be cherished and as a keepsake. Gentle and careful, occasional use is recommended at a stretch.
Please ensure you do have a read and by purchasing this item you understand the nature of this item as a keepsake and the nature surrounding the life expectancy and characteristics of this type of item. For more information around caring for you piece and the nature of sterling silver / Stainless Steel and base metals and the use of self covered domed fabric pieces. Please head over to our CARING FOR YOUR ITEMS page. It is important you understand and read, by checking out this listing with a purchase it is agreed that you understand this information and can decide if this item is suitable for your needs and wants.
Please do note that if Afterpay is the preferred payment method - your duration payments may be complete prior to you receiving your piece.
Please also note that screen colours may differ to the final effect and each item will appear different due to the nature of creating one of a kind pieces - it will be created in the same.method but the design of finished product may differ to the above image due to setting of each individual item and fabric placement in the pendant.
Please do note we do use your clothing pieces for this keepsake. We do our best to utilize the clothing pieces supplied as best we can - we do not wash or launder the clothing supplied. We do our best to work around any wear and tear of the item - however sometimes this is not avoidable. ie pilling, marks etc, But we believe this also makes it as special as the person who wears / wore the items.
Please select at cart the postage solution that suits you best - we recommend EXPRESS WITH SIGNATURE to ensure your treasured memory piece arrives in the quickest and safest manner possible.