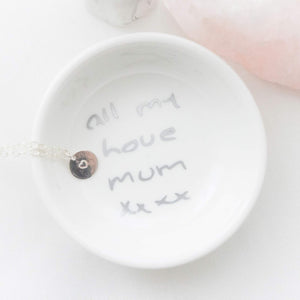 "It is those little touches of a personalised item that can complete the purchase"
A simple yet elegant ring dish that can be purchased on it's own as a gorgeous personalised gift or purchased as an add on to your Memories in Threads Resin Jewellery purchase.
SIZE - approximately 7cm diametre and approx 2.5cm in depth.
MATERIAL - White / off white ceramic
(may or may not have branding on the bottom of the dish)
FONT COLOUR - Grey semi matte vinyl text
FONT DESIGN - converted handwriting - MAX 5 WORDS
A direct copy of the wording you would like to be emailed upon ordering. We are unable to manipulate words. We convert the photo to a workable file.
We we will of course send a courtesy email to you with the design confirmation prior to completing your order ready for postage for an approval process.
Please do note this is a CUSTOM MADE ORDER and therefore does take approximately 1 week after order confirmation and receipt of the wording and design approval if custom wording (whichever occurs last) to complete the order, not including postage times.
Please do note that this is a fragile item and will be sent with all precautions in postage with bubble wrap and carded wrap within a standard satchel.