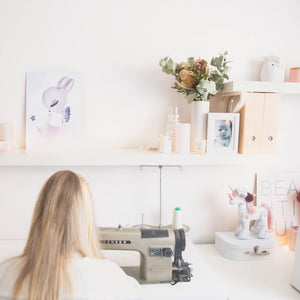 CUSTOM LISTING
CUSTOM LEAD TIMES FOR THIS PRODUCT APPLY - 4 WEEKS FROM PAYMENT. IF PAYMENT IS MADE BETWEEN 24/10/19 AND 28/10/19 POSTAGE WILL BE MADE FIRST WEEK OF DECEMBER TO ENSURE CHRISTMAS DELIVERY. PAYMENT AFTER THIS PERIOD CANNOT SECURE THIS POSTAGE TIME.
CUSTOM LISTING FOR LEAH
(Please only purchase if this listing is for you)
1 x MINI MEE DELUXE BALLERINA UNICORN
- Shelley mermaid scale print - blues / lilacs/ whites / pinks / yellows / greens etc legs and body.
- Pale Pink mane and tail - acrylic wool. Mint nylon tutu skirt.
- Assorted hand crafted shabby flowers and butterflies set within the mane. Colours to match the print, and assorted fabrics used.
- Matte Silver faux leather horn and ears.
- 4 x wooden buttons on legs.
- PET fill.
- Approximately 25cm tall.
1 x SILVER GLITTER IRON ON HEAT TRANSFER VINYL PERSONALISATION
- "F" letter located on back right or left leg and will be size appropriate to item above.
1 x LARGE WHITE CARDED PERSONALISED SUITCASE
- Silver shine or silver glitter (pending availability) "Florence" in cursive writing on top of case.
(PLEASE CHECK DETAILS OF THE SPELLING ABOVE as this is the spelling we will use on item, we are unable to take responsibility for incorrect spelling not picked up on listing)
- Size 30cm Width x 20cm Depth x 9cm Height. White Carded with chrome look silver handle and clip. Please refer to our listing for other details HERE.
CHECKOUT NOTES
To be sent as a gift to customers allocated address - please list this address and name (addressee) AT CHECKOUT NOTES.
Important Info -
Each and every Decor piece as a CUSTOM LISTING is created as a CUSTOM ORDER and this means that it is created just for you - as an individual and unique piece. This means there is a no change of mind policy and returns on custom orders outside of your ACCC consumer rights.
Custom lead times are approximately 4 weeks not including postage.
Upon completion you will receive a few studio photos of your finished item like below. Showcasing your stunning piece.
If you are selecting AFTERPAY as method of payment, please do note you MAY have made all of your payments in full PRIOR to receiving your finished item. Please note the custom lead time as listed in this listing.
All of your items here at RubyBabyDesigns are heirloom quality, handmade products and therefore feature decoration that is delicate in nature and may contain removable and smaller parts. Our gorgeous collections are not meant for play and are labelled accordingly as DECOR ONLY. Not suitable for those under the age of 5 years.
We create HEIRLOOM QUALITY KEEPSAKE DECOR PIECES, rather than toys. They cannot be washed or ironed. Spot clean only if necessary with a lightly damp clean cloth.
Please also note care and item instructions of your item HERE