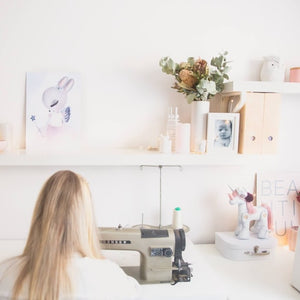 CUSTOM ORDER LISTING
CUSTOM LEAD TIMES FOR THIS PRODUCT APPLY - 4 TO 6 WEEKS CUSTOM LEAD TIMES AFTER PAYMENT RECEIVED UNLESS SPECIFIED HERE - CUSTOM ORDER WILL BE MADE AND SENT NO LATER THAN THE 2ND OF MARCH 2020. 
FULL PAYMENT OF CUSTOM ORDER TO BE MADE NO LATER THAN THE 20TH OF FEBRUARY 2020 in ORDER TO MEET DEADLINE.
CUSTOM LISTING FOR KYLIE
(Please only purchase if this listing is for you)
1 x CUSTOM MADE MINI MEE HEN-YI HEIRLOOM CLOTH DOLL
Size - approx 24cm tall
Colours - 
BLACK legs and arms (plain)
BLACK face with half grey felt on LHS as viewed.
GREY AND WHITE Triangle Geo print body.
Hand embroidered eyes and nose and mouth.
100% PET Fill inside. Environmentally friendly.
Each and every CUSTOM ORDER is created just for you and to your selected colours etc. Custom lead times are approximately 4 to 6 weeks not including postage unless specified above.
Upon completion you will receive a few studio photos of your finished item like below. Showcasing your stunning piece.
If you are selecting AFTERPAY as method of payment, please do note you MAY have made all of your payments in full PRIOR to receiving your finished item. Please note the custom lead time as listed in this listing.
Please take note that these custom made decor pieces are just that - HEIRLOOM KEEPSAKE CLOTH DOLLS. All of our cloth items here are RubyBabyDesigns are heirloom quality, handmade products and therefore feature decoration that is delicate in nature and may contain removable or small parts. Our gorgeous collections are not meant for play and are labelled appropriately as DECOR ONLY. Not suitable for those under the age of 5.
These items CANNOT be washed (machine or hand or dry cleaned) or ironed. Spot clean with a lightly damp cloth if necessary. Please store in a cool dry and dust free place.
Please refer to our caring for your items for more information surrounding the care of your cloth decor pieces.
Please refer to our FAQ surrounding our shop policies. By taking this to checkout you confirm your acceptance of our terms and conditions.