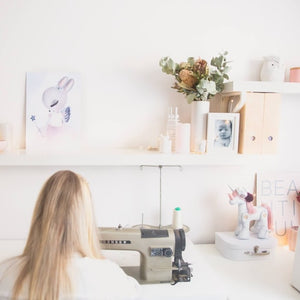 CUSTOM ORDER LISTING
CUSTOM LEAD TIMES FOR THIS PRODUCT APPLY - 4 TO 6 WEEKS CUSTOM LEAD TIMES AFTER PAYMENT RECEIVED.
WILL BE POSTED THE LAST WEEK OF NOVEMBER AT LATEST.
CUSTOM LISTING FOR HUI
(Please only purchase if this listing is for you)
1 x CUSTOM MADE POPPY THE PEGASUS UNICORN
Size - approx 32cm tall
Blue Ombre scale print with silver scales
Rainbow yarn mane and tail as selected on facebook PM
Crochet lace wings - colour tbc once complete
Silver tutu skirt as selected on facebook PM
Silver faux leather ears and horn
1 x CUSTOM MADE GIRAFFE
Size - approx 48cm tall
Yellow toned tie dye effect fabric as selected on facebook PM
Contrast trims yellow and white spots
Ribbons along neckline in complimenting colours
Each and every CUSTOM ORDER is created just for you and to your selected colours etc. Custom lead times are approximately 4 to 6 weeks not including postage
Upon completion you will receive a few studio photos of your finished item like below. Showcasing your stunning piece.
Both pieces are handmade using 100% cotton and PET fill - environmentally friendly, and wooden engraved "handmade" buttons.
If you are selecting AFTERPAY as method of payment, please do note you MAY have made all of your payments in full PRIOR to receiving your finished item. Please note the custom lead time as listed in this listing.
Please take note that these custom made decor pieces are just that - HEIRLOOM KEEPSAKE CLOTH DOLLS. All of our cloth items here are RubyBabyDesigns are heirloom quality, handmade products and therefore feature decoration that is delicate in nature and may contain removable or small parts. Our gorgeous collections are not meant for play and are labelled appropriately as DECOR ONLY. Not suitable for those under the age of 5.
These items CANNOT be washed (machine or hand or dry cleaned) or ironed. Spot clean with a lightly damp cloth if necessary. Please store in a cool dry and dust free place.
Please refer to our FAQ for more information surrounding the care of your cloth decor pieces.
Please refer to our shop policies in our FAQ - by checking out you are confirming your acceptance of our shop policies and return policies etc.